How to Connect to CQ-UK Room
CQ-UK now has links via MI5DAW-L node on Echolink and ALLSTAR node 47845
Modes that work via the CQ-UK Wires-X room are as follows.....
FM, D-STAR, C4FM, DMR, NXDN, and SOON P25


New NXDN REFLECTOR ADDED For CQ-UK
10922 81.150.10.92 41400

All works well on Jumbospot or similar board on a raspberry pi. .
Upgrade Pi-Star to latest version.
Configuration > Expert > SSH Access
name pi-star
password raspberry
sudo pistar-update
sudo pistar-upgrade
May have to run sudo pistar-upgrade a few times until latest version is listed.
To update the NXDNHost.txt file or other Host files that you want to add reflectors to.
Configuration > Expert > SSH Access
name pi-star
password raspberry
sudo su
rpi-rw
cd /root
ls
A list of .txt files should be there.
pico NXDNHosts.txt
Add the following lines one for CQUK and one for Irish Scottish Link. Use 2 tabs not spaces.
10922 81.150.10.62 41400
10120 81.150.10.63 41400
ctrl + O
enter
ctrl + X
exit
sudo pistar-update
New reflectors will appear at the bottom of reflector list in configuration page.
Jumbospot or Similar will do all modes. Not all reflectors are added to the pi-star software. Above will let you add your own.
Ernie GM7KBK
NOW on YSF Reflector GB XRF922 linked to XLX925 via MI1DAW in Belfast 24/7
on DSTAR use DCS925A, XLX925A or XRF925A via MI5DAW in Belfast 24/7
on DMR+ repeaters via Phoenix TG2351
on DMR+ using Dongles Reflector 4409 Server: Phoenix-F via MI5DAW in Belfast 24/7
on C4FM Wires-X repeaters Room 27793 or search "CQ-UK" 24/7
on C4FM using Dongles FCS 004/20 via MI1DAW in Belfast 24/7
on C4FM using Dongles FCS004/15 via GB7RY in RYE via M0HOW 24/7

Brandmeister repeaters NOT AVAILABLE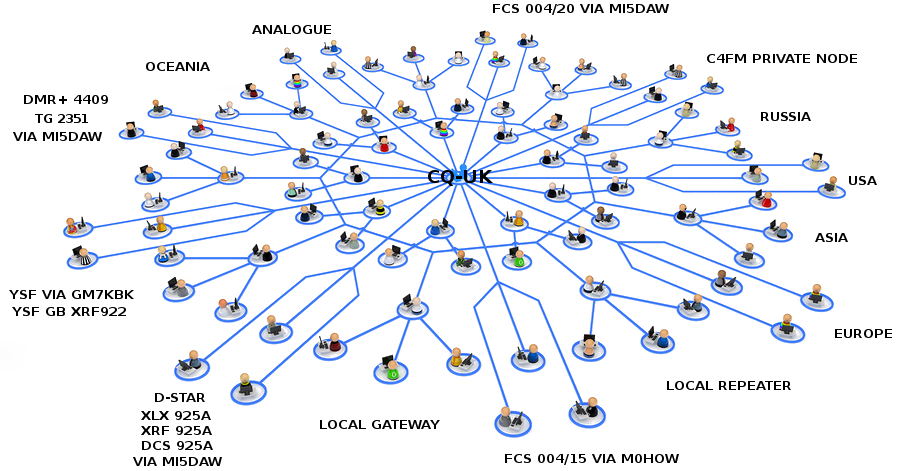 SHARKRF OPENSPOT


openSPOT is a standalone digital radio IP gateway / hotspot
Key features:
Supports DMR (Brandmeister, DMRplus), D-Star (DCS, REF/DPlus, XRF/DExtra, XLX), System Fusion (FCS, YSFReflector) networks. More supported networks and features will be available with new firmware releases.
Supports cross modem modes. Talk with your C4FM radio on DMR, and with your DMR radio on System Fusion networks!
Very easy to use, works without a computer. No additional hardware required, works out of the box. All accessories included.
Web interface for configuration and monitoring.
HTTP, UDP/TCP API support.
Custom 2FSK/4FSK RF protocol support with TDMA.
USB powered, low energy consumption, 20mW RF output.
Create your own private radio network using our open source server application.
Runs fully embedded software written in pure C, running on an embedded real time operating system. No Linux, bulky Windows software or failing SD cards!
DMR features
Use openSPOT not only as a DMR hotspot, but as a base or mobile station with 2 timeslots simultaneously
Timeslot repeating in base station/repeater mode
Send and receive DMR SMS messages
Built-in echo service
Controllable with calls and custom short messages to preconfigured DMR IDs
Openspot links
Designed for amateur radio
Connect openSPOT easily to DMR, D-Star reflectors, C4FM/System Fusion rooms, and use your radio with excellent voice quality without sync errors
Customize communication settings on the web interface
Discover how digital protocols work, and connect your own apps by sending and receiving RF frames in UDP packets
Create your own RF protocol by customizing RF modem settings, packet format, sync words (even with TDMA support)
Use single, or separate RX/TX frequencies
Optional erroneous packet generator module for testing other digital receivers
State of the art hardware design
2 CPUs running at 100 and 120MHz
USB mass storage device bootloader for easy firmware upgrades
4 multicolor, bright LEDs for easy real time state monitoring
Low power usage
Automatic recalibra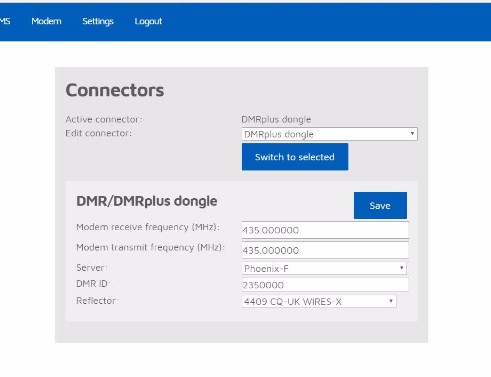 ONLY **DMRPlus** REPEATERS WILL LINK TO CQ-UK VIA TG 2351 (**Not Brandmeister**)

Please note: send & receive DMR both ways into CQ-UK you must use Pheonix F as the server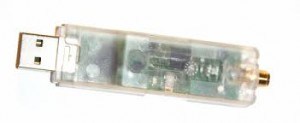 Supported Protocols
DSTAR ( DEXTRA, DPLUS, DCS XRF )
FUSION ( YSF, FCS )
DMR ( Brandmeister, DMR+ )
What you will need
Windows 7 or above ( 32 or 64 Bits ) ( make sure you have .NET frameworks 4.5 or newer installed! )
Intel PC or Windows 10 tablet
DV4MINI or DV4MINI AMBE directly on your PC via USB
DV4MINI
The DV4mini is a very small but also very capable USB Stick that can turn any PC into a Hotspot for the digital modes D-STAR, DMR, C4FM and APCO P25. It consists of a powerful 32 bit micro controller, a complete 70 cm/2 m transceiver and a modulator/demodulator for GMSK and 4FSK and a USB interface. The DV4mini does not require an external power supply. It is powered through the USB interface. Even older USB interfaces are sufficient. The DV4mini is supplied together with a simple to use and comprehensive software package. This allows linking with DCS, XRF and REF reflectors for D-STAR as well as DMR, P25 and Fusion reflectors. Many hams have a DV (digital voice) capable transceiver but cannot reach the closest DV repeater. With the DV4mini it has become possible to create a hotspot with minimal resources and thus get access to a DV network. It is also possible to link C4FM repeaters with the reflector network. The new DV4mini AMBE allows to talk to D-Star Reflectors or DMR Talkgroups without a radio, just using a headset with microphone and speaker connected to the PC. Fusion works with an external radio, the AMBE based direct connection will be updated via software update later. The UHF DV4mini can be set to any frequency between 420 MHz and 450 MHz. The VHF versions work on any frequency between 144 MHz and 148 MHz. However they also cover the 70cm band at a lower output power, so they are dual band capable, but the output power on 70cm is lower than in the UHF version.
DMR: DMR was originally designed by ETSI for commercial applications. This is evident in the user interface where numbers are used in lieu of call signs. DMR modulates with 4FSK, indicating that it uses 4 frequencies (compared to D-Star with 2 frequencies). This allows to double the data rate to 9600 bit/s. The higher rate allows the transmission of 2 channels at the same time (2 time slots). The DV4mini always works in simplex mode in DMR. If you use time slot one (TS1) you have to set your radio to color code 1 (CC1) and the talkgroup you want to use, i.e TG311 or TG262 etc. Be aware that you have to enter the talkgroup number into the receive group list of your radio too, or your squelch will not open. This is a common error made by first time users and it is very frustrating. ­ When you use TS2, you always transmit and receive on TG9 (local) This is then routed by the DV4mini and the DMR Plus system into the selected rooms. So on TS2 you use CC1, TG9. Again, you need to program your radio accordingly, and again do not forget to put TG9 into you receive group list! There are multiple DMR networks available: The DMR Plus network is developed and operated by the DV4 team, the Brandmeister network by a team of Russian developers and the DMR-MARC network by the Motorola Amateur Radio Club. The DMR Plus network reflectors and the Brandmeister reflectors can be selected in the expert settings. DMR reflectors have numbers in the range of 4000 to 5000. Each region has its own reflector, which can be selected in the DV4mini menu. The DMR-MARC network can be selected by using the IPSC2 version of the control center. Select the appropriate IPSC2 server as your DMR server and you can connect to the Motorola TG on TS1 and to the DMR Plus TG on timeslot 2.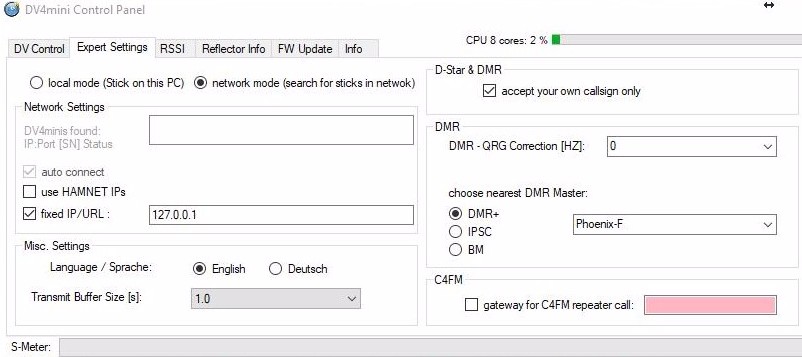 DVMEGA BlueStack & BlueDV for D-Star DMR and C4FM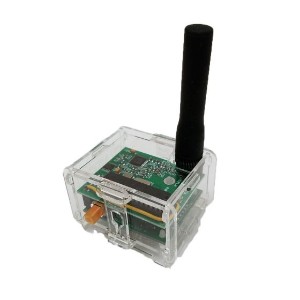 BlueDV for windows is free DMR /DSTAR/Fusion hotspot software for your PC.
Supported Protocols
DSTAR ( DEXTRA, DPLUS, DCS )
FUSION ( YSF, FCS )
DMR ( Brandmeister, DMR+ )
What you will need
Windows 7 or above ( 32 or 64 Bits ) ( make sure you have .NET frameworks 4.5 or newer installed! )
Intel PC or Windows 10 tablet
DVMEGA with BlueStack ( you connect the DVMEGA and BlueStack directly on your PC via USB or Bluetooth)
What hardware to use
Combitronics sells a complete solution: Bundle
DMR, DSTAR or FUSION radio
( new is the ThumbDV DV3000U support ( DSTAR, DMR ). Download pre BETA version 9458 or newer. )
How it all works
Download the software from http://software.pa7lim.nl/BlueDV/BETA/
Plug the DVMEGA into your serial port. ( do not forget the switch on the BlueStack, push the red switch in! )
Look in the Windows device manager on what port the DVMEGA is.
Start the BlueDV windows application.
Goto setup and fill in your Call, freq. etc..
Press Connect.. Done!
No Raspberry PI needed! No Linux knowledge needed. Online in a few minutes.
Dongles will allow you to access to the Wires-X system in part, but at this time only the HRI-200 will allow access to the thousands of connections available, and even the ability to talk to individuals 1 on 1
in which ever country they reside...
THE CQ-UK ROOM IS AN INTERNET BASED SERVICE PROVIDED BY M0SGS (Stuart) FROM PUDSEY, WEST YORKSHIRE..
( NO ACCESS IS AVAILABLE VIA LOCAL RF )THE ONLY WAY TO ACCESS CQ-UK IS EITHER VIA A GATEWAY, REPEATER, PERSONAL NODE, OR VIA INTERNET LINKS ON FCS 004/15, FCS 004/20 & ON TG 4409 ON DMRplus (NOT BRANDMEISTER)
FCS 004/15 IS SUPPLIED BY DAN (M0HOW) VIA GB7RY IN RYE, SOUTH EAST ENGLAND
FCS004/20 IS PROVIDED BY MI5DAW (Rickie) IN BELFAST, NORTHERN IRELAND ( NO ACCESS IS AVAILABLE VIA LOCAL RF )

DVMEGA USERS TO ACCESS CQ-UK CHOOSE DMR+ ON YOU RADIO GO TO CONTACTS/MANUAL DIAL/RADIO NUMBER (TYPE 4409) THEN PTT TILL IT BLEEPS THEN PTT AGAIN AND THE DVMEGA WILL REPORT BACK AS BEING CONNECTED TO TG 4409..

THE DVMEGA WILL REVERT BACK AFTER A TIME TO THE DEFAULT REFLECTOR..( WE DON'T KNOW WHY)
Please refrain from trying to add any links to the CQ-UK room without permission, we a trying provide a service and are willing to provide that service TO EVERYONE without stipulations for its use on a 24 hour basis, at the same time we ourselves create links via the internet only and thereby remain within the legal framework of amateur radio licensing, As to the re-transmitting of 3rd party via RF which can and will be a breach of your licence if you have a private node with no NoV you must use a dummy load on the node radio..

*** THE CQ-UK ROOM IS FOR EVERYONE TO USE AND IS OPEN FOR ALL TO ENJOY..... ***
SO DON'T LINK YSF OR OTHER REFLECTORS TO CQ-UK IT WILL GET YOU MUTED IN THE ROOM...
Many thanks to the Phoenix DMR Network
for the Addition to the reflector list